Back
The beauty of a stone fireplace never falls out of favor, but installation challenges make it a prohibitive option for some projects. Versetta Stone panelized stone offers an easier path to creating eye-catching fireplace surrounds, combining the look and feel of stone with easy, panelized installation to deliver the dramatic look of a stone fireplace within reach.
One of our favorite examples is the Northmade Farmhouse, which features a soaring two-story fireplace made with Versetta Stone Ledgestone in the Mission Point colorway, perfect for the home's modern-farmhouse vibe. (Read more about this project here.)
Versetta Stone offers a range of benefits for fireplace surrounds:
• Easy, straightforward installation: Versetta Stone panels install quickly and require no special tools. Each panel can be cut with a diamond blade and fastens to the wall with screws through the integrated nailing fin. As such, it does not require a mason for installation and can be installed by traditional siding contractors and carpenters. It's also within reach of advanced DIYers.
• No artistry required: Stone fireplace surrounds require an artisan's touch—laying out the stones so they look perfect and fit well together and then replicating that layout on the wall. With Versetta Stone, those steps are taken care of. Simply fasten the panels to the wall, and the pattern looks beautiful without much creativity. And yet it still has the look of hand-crafted stone. Corner pieces also make it easy to create a clean, finished look.
• Less mess: Versetta Stone eliminates the messiest parts of masonry installation—no lath, no scratch coat, no mortar. This is especially helpful for remodeling projects, eliminating concerns about tracking in mud or ruining manicured lawns washing off tools and mud buckets. Versetta Stone panels require cutting that generates dust, but this can be done outside over a tarp, with cut pieces handed in through the window.
• Lightweight: Versetta Stone weighs 17 pounds per panel, or 8.5 pounds per square foot.
• Suitable for fireplaces: Versetta Stone is safe for use as a fireplace surround for gas and electric fireplaces and does not require distance from the firebox like some non-combustible materials do. (However, it cannot be used inside the firebox.) Still, installers should always follow fireplace manufacturer instructions and guidelines for surround materials.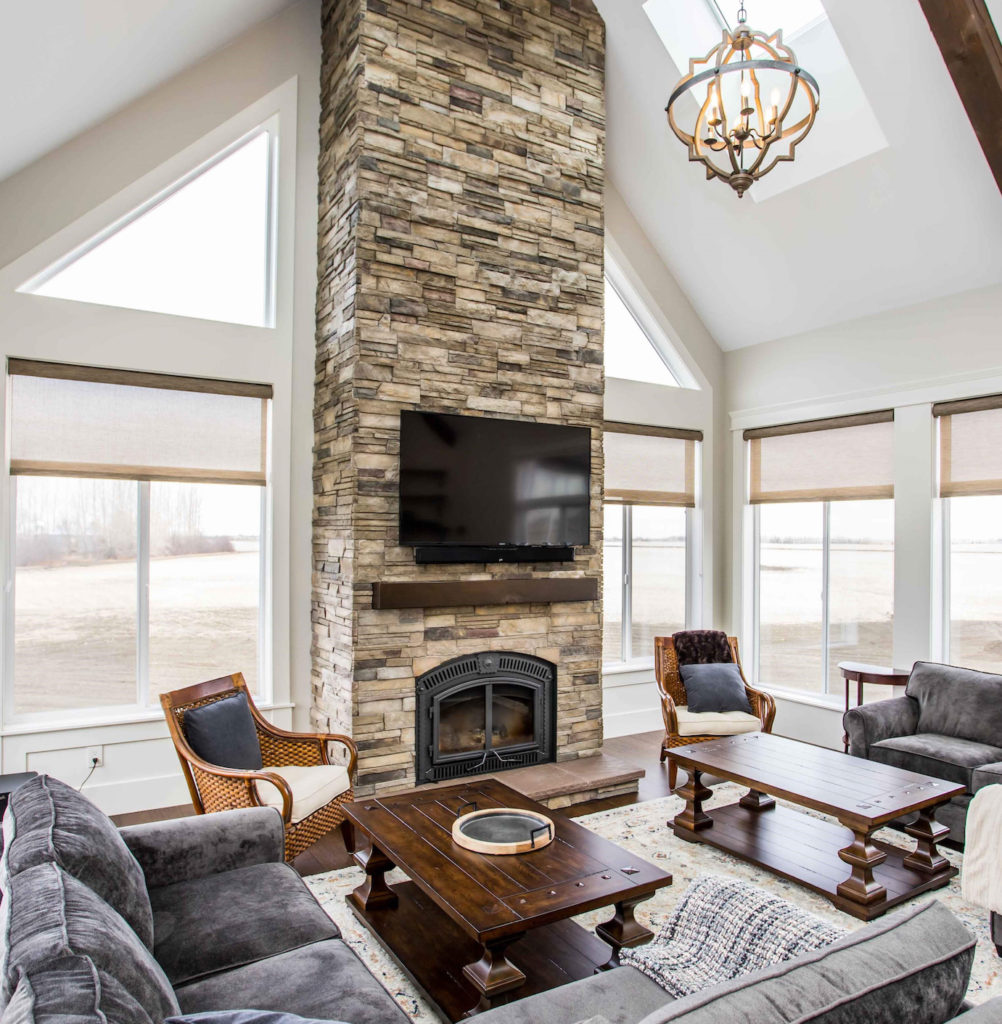 Find more Versetta Stone design inspiration for interiors in our Idea Gallery.