Back
The wall system is one of the most critical areas for preserving the home's durability and longevity. And it's just that—a system. Each part of the wall, from the cladding to the housewrap to the flashing, plays a role in keeping the wall system protected and dry. As such, it's important to note that different types of siding may require different drainage systems behind them and, therefore, work best with specific types of weather resistant barriers (WRBs).
Cladding Material Influences Housewrap Selection
At minimum, one of the first steps in ensuring your wall works as a system is to follow local code requirements as well as instructions from your housewrap manufacturer and guidelines from your siding manufacturer for the specific cladding or claddings. The siding's material and how it installs on the wall both factor into the decision of what WRB to choose.
For example, a wood or wood-based siding is much more prone to moisture absorption and will require a robust rainscreen system to ensure bulk water drains away quickly instead of absorbing into the siding, which can lead to premature failure. TruExterior® poly-ash siding, which is resistant to moisture but installs flat against the wall, is recommended to be paired with at minimum a drainable housewrap, which provides more drainage than a flat housewrap but less than a full rainscreen.
The Vinyl Siding Institute requires installing vinyl siding, such as that from Royal® Siding or Exterior Portfolio® with a weather resistive barrier. Because vinyl and polypropylene sidings are designed to allow the material underneath to breathe, they can be installed over a flat housewrap unless local codes require otherwise.
Some cladding types feature a rainscreen already built in, as is the case with Versetta Stone® panelized stone siding. Because of this, the minimum recommendation is one layer of #15 felt.
Pay Attention to Transitions
With the growing trend of multi-textured facades, you'll need to accommodate each type of cladding. When installing two products together that have different recommendations for housewraps and rainscreens, you'll need to either wrap the entire façade in the more robust system or plan the wall system accordingly so that the corresponding weather barrier is positioned under each cladding and properly transitions from material to material per guidelines from the WRB and cladding manufacturers.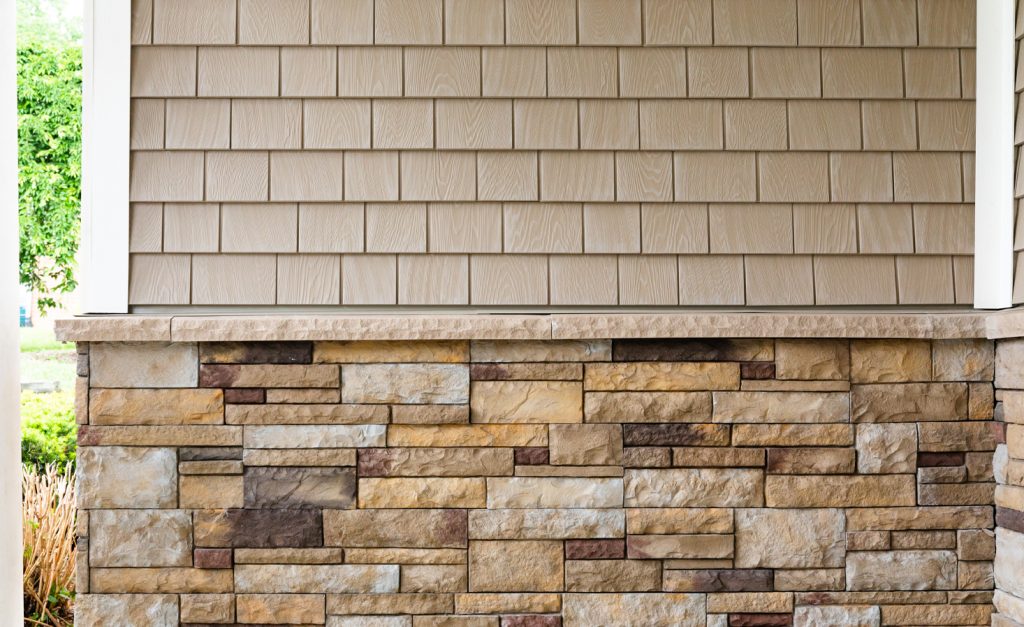 Flash Well
Follow all recommendations for flashing, as well, as some materials may require or recommend more robust flashing at the seams to prevent bulk water intrusion. Your installation instructions may also provide guidelines for step flashing along roof and wall lines to ensure water drains away rather than becoming trapped in the wall system.
Consult With Experts
Siding materials will shed the bulk of the water before it can reach the underlying wall assembly, but their main job is to make the house look good. Work closely with your housewrap and flashing manufacturer to ensure the wall system can properly manage any liquid water that may end up behind the siding so that the wall structure stays dry. Designing and installing a proper wall system can help protect the structure and its occupants while safeguarding the longevity of the home. 
Have questions about your siding installation and exterior wall system? Connect with us here.